Use coupon code ms082 at checkout for free shipping.
Rosetta Stone Turkish
Free 2-Day Shipping in the U.S.
The Rosetta Stone Language Software will teach you the Turkish language by using your own natural language-learning abilities. Language instruction that works. Language learning that lasts. Surprise yourself with success!
This item is directly from Rosetta Stone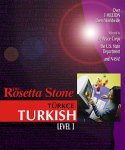 Amazon.com Product Description
The Rosetta Stone Level I program offers a comprehensive course of study for beginning learners, leading to intermediate proficiency. The program contains over 3,500 real-life images and phrases in 92 lessons and more than 250 hours of mastery instruction in listening comprehension, reading, speaking, and writing. Systematic structure teaches vocabulary and grammar naturally, without lists and drills. There are reviews, exercises, and tests for every lesson with automated tutorials throughout the program....