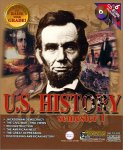 United States History: Semester 1
Amazon.com Product Description
Increase your grades in U.S. History with this product from Fogware Publishing. With six CD-ROMs on topics such as Jacksonian democracy, the Civil War, and the Great Depression, you'll discover historical facts that are a part of America's rich history. Examine the momentous events that have shaped our country, leaving an indelible mark on the spirit of America. Witness the bitter bloodshed of the Civil War as families clashed and a nation divided. Sense the hopelessness and poverty of the Great Depression. Discover why the ideas...