Use coupon code ms082 at checkout for free shipping.
Rosetta Stone Polish
Free 2-Day Shipping in the U.S.
The Rosetta Stone Language Software will teach you the Polish language by using your own natural language-learning abilities. Language instruction that works. Language learning that lasts. Surprise yourself with success!
This item is directly from Rosetta Stone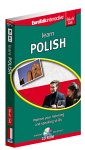 Amazon.com Review
World Talk is the perfect language-learning follow-up to EuroTalk's popular Talk Now! series. In addition to new activities, the creators have added dictation, worksheets, and a brand-new recording section. Topics are designed for the intermediate learner and include reviewing the calendar, building sentences, asking directions, and translating weather terms and numbers. The interactive TV quiz is another useful learning tool, pitting learners against the resident champion or one-on-one against a friend...