Use coupon code ms082 at checkout for free shipping.
Rosetta Stone Korean
Free 2-Day Shipping in the U.S.
The Rosetta Stone Language Software will teach you the Korean language by using your own natural language-learning abilities. Language instruction that works. Language learning that lasts. Surprise yourself with success!
This item is directly from Rosetta Stone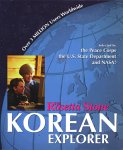 Rosetta Stone: Korean Explorer
Amazon.com Review
The Rosetta Stone Explorer contains 22 lessons for beginning learners with nearly 900 real-life images and phrases spoken by native speakers. It develops all key language skills--listening comprehension, reading, speaking, and writing--while its systematic structure teaches vocabulary and grammar naturally, without lists and drills. Includes previews, exercises, and tests for every lesson, with automated tutorials throughout the program...