Use coupon code ms082 at checkout for free shipping.
Rosetta Stone English
Free 2-Day Shipping in the U.S.
The Rosetta Stone Language Software will teach you the English language by using your own natural language-learning abilities. Language instruction that works. Language learning that lasts. Surprise yourself with success!
This item is directly from Rosetta Stone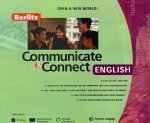 Berlitz Communicate & Connect English
Amazon.com Review
Experience the world through personal communication and one-on-one connections using Communicate & Connect English. This program makes use of multimedia technology, so learning English is easy and enjoyable. Multiple learning methods combined with accelerated skill-building techniques are used for an effective and rewarding language-lesson package...